In addition to all of this, for many caregivers, one of the biggest challenges they face is isolation. From the moment of diagnosis, the needs of their children can be overwhelming and all-consuming.
Parents of children with special needs put so much effort into helping their children and creating the best possible life they can for their children, that they sometimes neglect their own needs.
In all the preparation and work that parents of children with special needs do to take care of their children, very little thought is given to preparing and planning to meet their own needs. This is especially true when it comes to isolation, which can become even more challenging over time than the diagnosis or disability itself.
In this article, we will talk about the unique challenges these parents face, the strategies that can help parents of children with special needs avoid isolation.
We will talk about the steps that they can take at every point along the way, from the diagnosis and the early years through all the different stages their child's life, in order to make sure they are taking care of their own needs, so they can be there for their children.
As children with special needs age, they have different needs and require different degrees of care. It is no different for their parents and caregivers, and their needs will evolve and change as well as their child grows.
The more efforts parents can make from the very beginning and throughout their child's life to avoid isolation, the less depression, anxiety, and loneliness they may face.
CHALLENGES DURING THE EARLY YEARS
When children with special needs are very little, and still babies and toddlers, there aren't as many incidents of isolation.
Traditional playdates are still easy to do with other parents and children because the children are still at the stage of life where they all play on the floor together.
Depending on the specific diagnosis of the child with special needs, there might not be a large difference between the abilities and development of the children.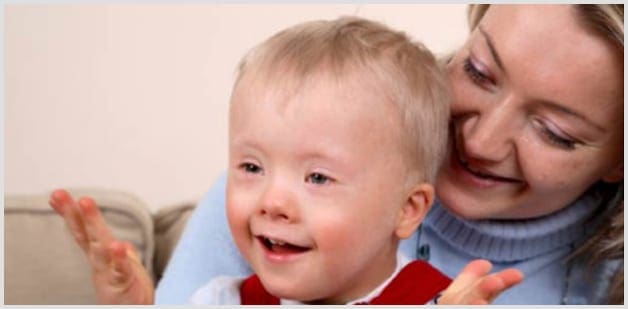 When children are little, transportation is still relatively easy and don't require inordinate amounts of planning or equipment or accommodation, and so it's still easy to get together with friends and family. Toddlers can play together without a lot of guidance or assistance.
Isolation doesn't seem to be a big concern during these early years. Parents of children with special needs are busy going to doctors, therapists, specialists, early intervention programs, and other appointments and activities.
Parents often don't notice the small increases towards isolation because they are busy with their child's many needs.
But without awareness and careful planning—just as careful as they are with their child's medical and therapy scheduling—isolation can start to unintentionally accumulate and build.
CHALLENGES AS CHILDREN START TO GET OLDER
As children with special needs start to get older and they are no longer meeting traditional milestones, the difference between them and their peers starts to be larger and more noticeable.
They can no longer play and interact easily on the floor. Playdates are much more difficult.
Even when playdates are arranged, parents with special needs often have to stay with their child and help them play and participate instead of being able to visit and interact with other adults.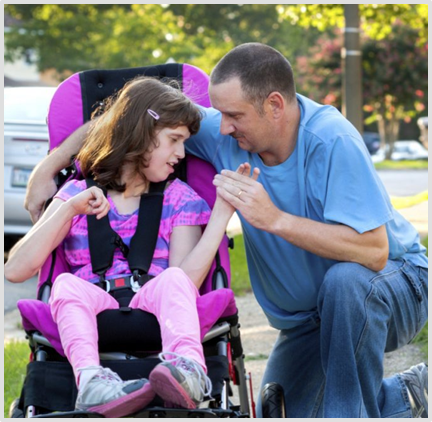 Compounding the isolation, most parents of children without special needs don't understand how difficult this can be. They don't really understand how much supervision and help a child with special needs requires and this only tends to increase the feelings of loneliness and isolation.
Additionally, as a child with special needs starts to get older it gets harder and harder to be able to get out. It sometimes requires lots of equipment and planning. Many places don't have accessibility for people with disabilities.
Not only that but sometimes the child doesn't want to leave the home because of overstimulation or anxiety and they become belligerent and uncooperative when it's time to go anywhere.
Most people think that the older a child gets, the easier the challenges become, but this isn't true. In fact, the older children get, the harder it is to control their behavior when they are bigger and stronger than ever. For many parents of children with special needs, it starts to become easier to just stay home and this naturally increases the amount of isolation they face.
One mother of a child with special needs, Amy Mattson describes how this happens:
"The worst part of the isolation reality special needs families face is that it's no one's fault. There is a natural progression to it. As our kids get older, we don't participate in the same activities. While our lives revolve around doctors, procedures, and therapies everyone else is pouring their time into sports practice, dance lessons, gymnastics, boy/girl scouts, and every other 'normal' activity kids participate in. Our paths no longer cross. We no longer relate to each other. It's hard and it takes effort to be friends."
For parents of children with special needs, who are already exhausted and worn out physically and mentally, this effort may seem too difficult to pursue.
Other challenges include difficulty in finding babysitters who are equipped, prepared, and able to properly care for your children. This leaves parents with special needs feeling like they can't get a break.
There are financial challenges as well. The costs of proving medical care and therapy and medical equipment can be overwhelming. This leaves parents feeling like they don't have room in their budgets for personal needs or entertainment.
Finally, there are emotional challenges for parents of children with special needs. They feel guilty taking care of themselves and spending time and energy outside of the needs of their child. When they do get out, it's hard to relate to others and they struggle with wanting to vent and blow off steam but not wanting to seem like they are complaining. Again, these feelings are extremely isolating.
As you can see, there are many very real challenges that create isolation for parents with children with special needs. This is why it is so important to prepare and plan and have concrete strategies in place to try to avoid and minimize isolation for these parents.
STRATEGIES TO HELP PARENTS OF
CHILDREN WITH SPECIAL NEEDS AVOID ISOLATION
The following strategies can minimize isolation for those who care for children with special needs:
Find a tribe
Although it might feel like it, remember that you are never alone.
There are many people who understand exactly what you are facing as a parent of a child with special needs.
There are lots of special needs parent support groups.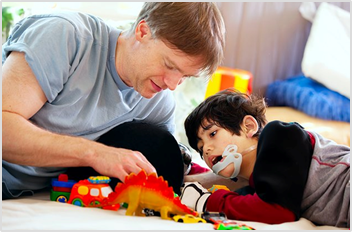 If you can't find one locally, there are lots of online communities that can offer support and interaction.
When you find other people who can relate to your feelings and your experience, it makes a huge difference in your feelings of isolation and loneliness.
Having a support group made of up of people who understand what you are going through has been proven to reduce stress and isolation.
Most communities have local support groups. If it is too hard to leave home, meeting up online can create the connection you need.
Find qualified help
Depending on where you live and your financial situation this may not be easy, but many states and communities have budgets to provide respite care with qualified caregivers. Research what is available to you.
This is a good thing to ask those people in your tribe. They may know of resources for help in caregiving that you aren't aware of.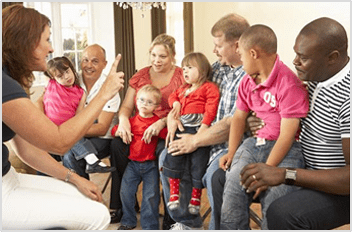 Don't be afraid to ask questions, to ask for help and to get some time away from your child.
Many caregivers fall into the trap of thinking that no one can care for their child like they can.
While this may be true, it will be okay for them to be with someone else for short periods of time and give you some relief.
You don't need to feel guilty. The time that you take to care for yourself will benefit your child and you will have more energy and ability to care for them.
Prioritize self-care
You would never skip an important appointment for your child. In the same way, you need to prioritize your own self-care.
It is easy to justify not doing this and thinking it is not important, but over time isolation and depression build. Preventing and alleviating these painful outcomes is just as important as the care your child needs.
Make a plan to do something, even a small thing, that is just for you once a week. With purposeful planning, you can find a way to prioritize this important part of your mental and emotional well-being.
Ask for help and be specific
No one knows exactly what your life with your child with special needs is like. People may be hesitant to offer to help because they don't know where or how you need help.
Don't be afraid to ask for help from loved ones and be specific about what you need. If you need a break, if you need company, if you need help with household tasks or transportation or managing appointments, talk to the people who love you about exactly how they can help you the most.
Tag Team
In conjunction with asking for help, make a plan to tag team with your partner, spouse, or close friend.
If you each take solo shifts in caregiving, it will give each of you a chance to have a little space and breathing room.
Make a schedule so you have some time on your own that you can look forward to.
Get outside
Sunshine and fresh air can be immediate mood lifters.
Even if it's just while your child is in a therapy session, stepping outside for a moment can give you some relief.
When you spend all your day inside your house or inside waiting rooms, it can wear on you.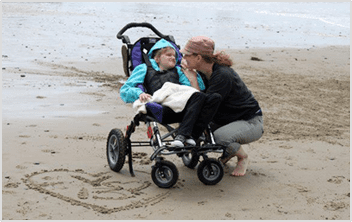 A quick walk outside can make a big difference in your self-care and doesn't take much time or effort.
Eat right
Your diet will make a huge difference in your overall health.
Your own nutrition can often seem like too much hassle to think about, but eating healthy food and drinking enough water gives you the energy you need to take care of your child.
This can be hard, especially when your schedule is busy with other appointments, but one strategy is to pack healthy snacks in your bag like granola bars, protein bars, fruit, and vegetables.
Remember that the food you eat will fuel your day. To be your best and have energy, make choices that will help you feel better in the long run.
Feed Your Soul
It's really easy to become overwhelmed and discouraged, depressed and isolated as a special needs parent.
Taking specific action to care for your emotional and mental health can make a big difference.
Take the time to write in a journal, practice gratitude, pray or meditate.
Many people recommend taking the time to write down two or three things each day that you are grateful for and keeping a gratitude journal.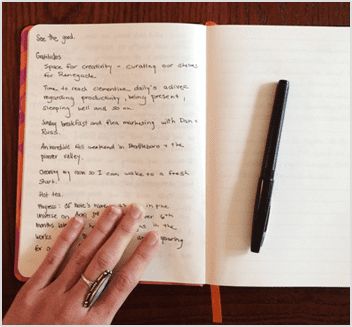 In the midst of stress and overwhelming challenges, this exercise can offer you some relief from noticing all the hard things. Noticing a few things every day to be grateful for can give you a different perspective.
There are lots of challenges for parents of children with special needs. One of the most significant of these is their own isolation. But with purposeful planning and prioritizing your own self-care, you can minimize and alleviate some of this isolation.
AT ACCEL WE CARE ABOUT PARENTS TOO
Parents of children with special needs spend considerable amounts of time and energy caring for their children.
There is always more to do, more appointment to go to, more things to learn, more strategies to try. The work never ends.
For these parents, taking time to care for themselves might seem like an impossible task.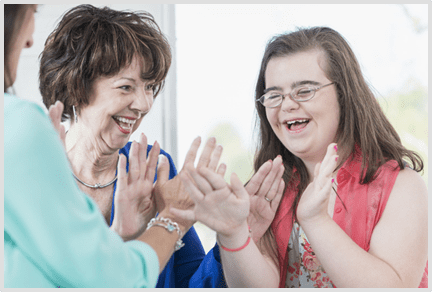 However, we have seen from experience that if parents and caregivers don't prioritize their own self-care and do what they can to minimize their isolation, it will catch up with them. They get burned out and exhausted. No one can keep going ahead, full-steam, without ever stopping to replenish their energy and emotional stores.
At ACCEL we are here to support your child, but we are also here to support you. Allowing your child to spend a few hours at school each day can allow you to have time for self-care and connection with others.
What sets us apart from the other district schools is that in traditional school settings parents are accustomed to getting a call from their local school principal when it is decided that their child has demonstrated"a negative behavior." Often the school requires parents to come to pick up their son/daughter right away.
At ACCEL a lot of children have behavioral challenges or problems, and what sets us apart, is that we're not going to call the parent during the day.
Instead, we are going to work through it with your child, equip them with new skills and coping mechanisms, educate the student on appropriate kinds of behaviors, and help each student try to course correct and self-regulate as much as possible.
In addition to school day support, we can also give you resources and help on where you can go to find caregivers and additional support for whatever specific challenges you are facing at home. We also are planning to start learning opportunities for parents outside of the traditional school day.
Most of all we are here to offer understanding, compassion, and support for you and your child. You are not alone.
We can relate and understand what you face on a daily basis, and knowing that someone else knows, understands, and cares about your child can offer tremendous relief.
At ACCEL, you and your child with special needs are our focus and priority.
A Big Thank you to JJ Suspenders for making this article possible.
Contact us today or come visit our ACCEL Adult Services program.
We have been successful because of our deep commitment to each individual and finding the exact right opportunity for them.