Adults who have Autism have just as many needs for community inclusion, meaningful work, managing stress, and facing the challenges of social interaction as children who have Autism, and have access to far less help or resources.
For adults who have Autism, finding and maintaining meaningful employment can be a source of great pride, fulfillment, and satisfaction.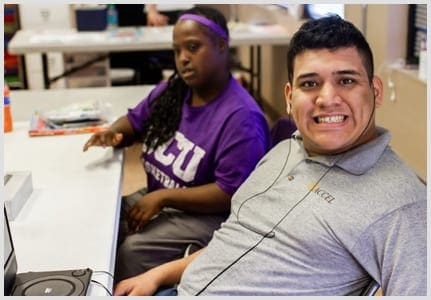 Historically, however, it has been difficult for people who have Autism to find regular, paid employment that complemented their unique abilities and desires. While there are many places where this is changing for the better, we can do more to help adults who have Autism find the right career exploration and employment options by improving employment programs available, adaptive work environments, and finding the right program for our loved one as a unique individual.
In this article we will discuss the barriers to employment that may exist for adults who have Autism, how the right career exploration and employment program can help break down or eliminate these challenges, what to look for in the right employment program, and how evaluating the strengths and limitations of each individual can help them find the right job.
Contents
ADULTS WHO HAVE AUTISM AND EMPLOYMENT
The good news is that many companies, and even large corporations, have begun hiring employees who have Autism and have seen the unique contribution these individuals can make.
For example, the Ernst and Young accounting firm has created a neurodiversity program that is specifically targeted to hire employees who have Autism that displays the math and focus skills that other employees do not have.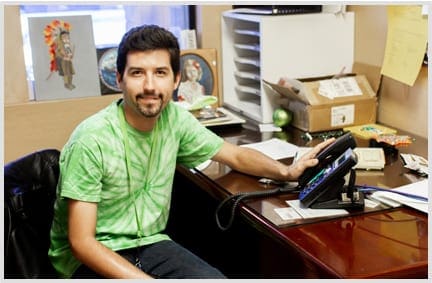 Similar initiatives have been undertaken at Ford and SAP. There is a carwash company in Florida, Rising Tide, which has received a lot of press and attention because they built their business by recognizing the strengths of employees who have Autism.
While more and more companies are seeing the benefits of hiring adults who have disabilities, there is still a long way to go to help adults who have Autism explore their own career interests and find appropriate employment.
Statistically, less than half of adults who have Autism are employed. Those who are employed, often only work part-time or work in jobs that are not suited to their skill sets, interests, or strengths.
There are several reasons that adults who have Autism may not be employed or may be underemployed:
Symptoms get in the way
People who have Autism have challenges in social settings. Interviewing for a job involves personal interaction in a new environment under stressful conditions. This can be overwhelming to someone who has Autism.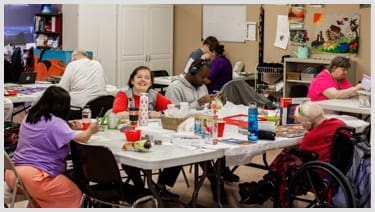 Making eye contact, initiating conversation or asking appropriate questions or picking up on body language and social cues all present challenges.
If employers are not understanding of the interview challenges and willing to make reasonable adaptations to their processes, this can hinder adults who have Autism from being hired, despite being qualified for a job.
Expectations are low
Unfortunately, many people who have Autism Spectrum Disorder are underestimated. This is true for employers and even for families. Sometimes there is very little expectation that employment is a good fit for their loved one.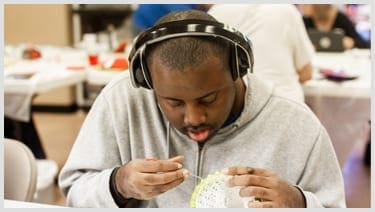 This is usually because they have not had full career exploration opportunities and the right employment opportunity or program has not been found, leaving families unsure how and when to help their loved ones who have Autism find the right job.
In reality, most adults who have Autism, no matter where they fall on the spectrum, benefit physically, emotionally, and socially from employment opportunities. It is simply a matter of finding the right opportunity, career exploration, or employment program which will then lead to the right job.
Autism hasn't been addressed
Traditionally, job training programs for adults who have disabilities were not created with Autism in mind. Many have been developed for other disabilities like blindness, deafness, or cerebral palsy, as well as for those who have intellectual disabilities.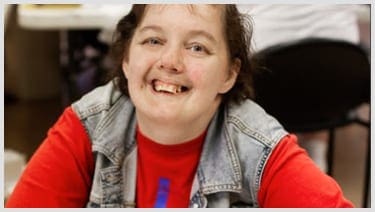 But Autism Spectrum Disorder is different and employment programs for those who have Autism are not widely available.
Additionally, there are few programs encouraging employment that have been specifically targeted for those who have Autism. Federal agencies, as well as most state agencies, are now starting to learn and understand the unique challenges that adults who have Autism face when seeking employment. Many agencies are playing catch-up and not yet meeting the needs of the rapidly-growing group of adults who have Autism.
Career options depend on abilities and challenges
In an article addressing the unique employment challenges those who have Autism face, Lisa Jo Rudy wrote, "One of the hardest realities to face as the parent of a child with autism or an autistic self-advocate is that abilities are not always enough to get and keep a good job.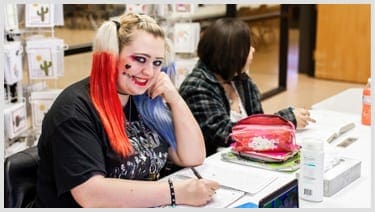 A young adult with autism may be a brilliant mathematician, but if he can't generalize his skills to a needed function such as accounting or statistics there may be no job available."
Because many jobs are done in social or office settings, this can be a difficult environment for adults who have Autism to function in. Many face sensory challenges or social anxiety. Transitions can be difficult and empathizing or seeing another's point of view is also very hard. This can make an employee who has Autism appear inflexible or unwilling to collaborate with others in the office.
This is why the right career exploration and training program is so critical for a person who has Autism. Every adult who has Autism has their own unique challenges. The right program can help them find the environment and career that is suited to their specific circumstances and desires. Rudy refers to this as "job carving", where the exact right job match is created that meets the needs and utilizes the specific talents of each individual.
JOB TRAINING PROGRAM CONSIDERATIONS
Under the Individuals with Disabilities Education Act (IDEA), a person with a disability is entitled to a free and appropriate education until they are 22. After that, they are no longer covered under the IDEA.
There is a need for transition to employment programs for adults who have Autism so that they can successfully make a transition into adulthood.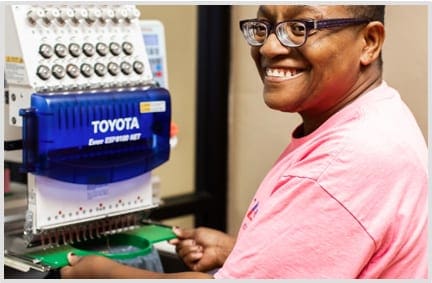 These programs should address vocational skills as well as prepare the individual for the environments and interpersonal skills that might be required.
When you are looking for the right career exploration and employment program for your loved one with Autism, there are some things to keep in mind and look for.
Is the program tailored to your loved one's abilities?
At ACCEL, our Adult Services program serves members 18 and over. Our adult program focuses on employment discovery, customization and developing specific work skills that are based upon their individual needs, desires, and abilities.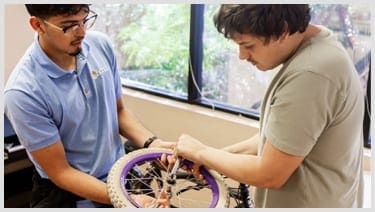 Career exploration and training programs cannot be one-size-fits-all. Each adult in our program has personal challenges and strengths and our goal is to match those abilities with the right opportunities at whatever level they desire.
Regardless of the severity of their disability or where they fall on the Autism spectrum, there is a place for them to find meaningful and satisfactory employment. Each person's contribution is important and we want to make sure we "customize" the right fit for each member.
Does the program offer more than vocational training?
For many adults who have Autism, the most severe challenges come not from the vocation itself but from the environment, interpersonal interaction, and sensory stimulation that are a part of the typical workplace.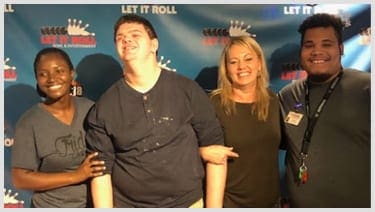 Therefore, it is critical that any employment program include opportunities to address these other challenges in order to maximize success. This includes appropriate social skills learning, modeling work behavior, cueing and suggestion, and gaining experience with independence and life skills.
By addressing all of these areas in addition to specific work skills, the adults in our program gain independence, self-confidence, and experiences in employment.
Does the program address the needs of those with moderate to severe
disabilities?
Most programs that have focused on preparing adults who have Autism for employment are primarily equipped to help those adults who have Autism and are higher functioning.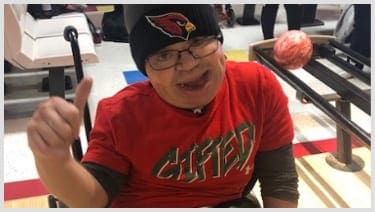 When you are choosing a career exploration and employment program, you need to make sure they can meet your loved one where they are and recognize their individual needs as well as their aspirations. The program should be customized to meet the preferences, wants, needs and desires of the person.
At ACCEL, our adult employment program activities are structured by individual needs and desires for employment. This allows us to help our members achieve their individual goals and aspirations.
It's important to understand that employment choices for those who have Autism should be self-directed and never forced or compulsory. Some adults who have Autism know exactly what kind of work they want to do, while others are more flexible and open to different possibilities.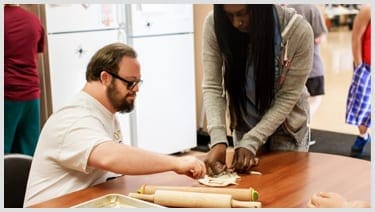 This is where career exploration is important so individuals can safely try career options and express their employment desires. Customized employment for each individual is crucial to the individual's success in the community. The quality of the employment match to the individual's employment desire is a must.
The ACCEL Adult Services program helps our members determine for themselves how they will spend their time and energy. Members should always be allowed to direct their own lives. Even those with limited skills have the right to do the work that suits their interests and abilities and gives them a sense of accomplishment and purpose.
We have talked about the importance of finding the right career exploration and employment program to help adults who have Autism find enjoyable and fulfilling employment. As always, this information, though valuable, is quite general.
When you begin your search for the right program for your loved one who has Autism, think about them as an individual.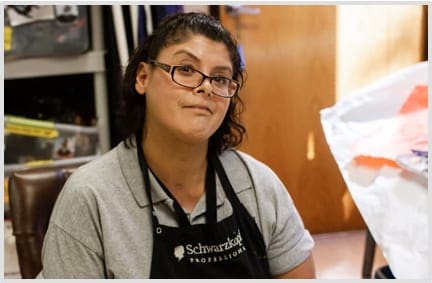 What are they interested in doing?
What do they want for their lives and how do they want to spend their time?
What skills do they have?
What skills do they need to acquire and what strengths will be useful to them and to a future employer?
All of these questions and answers are individual. Each person will answer them differently. There isn't only one way to go about preparing for and getting a job. You need to confidently do what's best for your loved one given their special circumstances.
At ACCEL, we are always here to answer questions or give you additional information about adult employment programs. We care about each of the adults in our program as individuals first. They each contribute something unique to our community and to the places they work and volunteer.
We would love to assist in any way we can to help you find the right employment program for the individual in your life who has Autism.
Contact us today or come visit our ACCEL Adult Services program.
We have been successful because of our deep commitment to each individual and finding the exact right opportunity for them.