We will also talk about many of the different roles you can have in special education, and the benefits that this career offers.
At ACCEL, of course, we are passionate about what we do and we are constantly thinking of ways to help our students find joy as they learn and make contributions, gain skills and make progress towards their goals and interests, and improve the quality and dignity of their lives.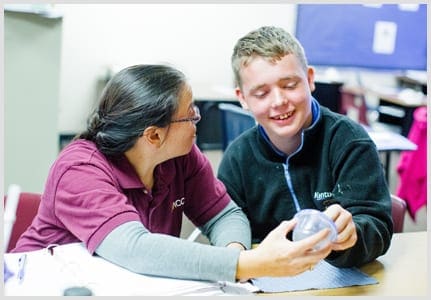 But we find that as we do our work to help our students, the same things happen in our own lives and this is why working in special education is such an amazing opportunity. As we help and interact with our students, develop programs, therapies, and projects, and find innovative ways for our clients to make connections and contributions, we find great joy, fulfillment, and improve the quality of our own life experience. It's a win-win!
If you want the same benefits in a highly rewarding career, this article will help you prepare for a career as a special education paraprofessional or any other job in special education.
WHAT CHARACTERISTICS WILL HELP ME BE SUCCESSFUL IN
SPECIAL EDUCATION JOBS?
Most special education paraprofessionals are warm, attentive and selfless. Careers in special education do not usually involve fame or fortune.
The people who work in the special education field do so because they love what they do, they love the students they work with, and they believe they are making a difference.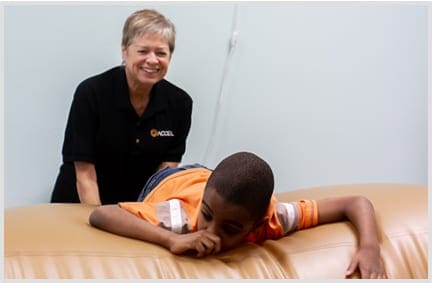 Careers in special education are not easy. It takes a special skill set to be successful and handle the challenges that this job provides. Here are some of the character traits that will help you most as a special education paraprofessional:
Loves and Likes Children
While there are many adults with special needs that you may work within your career, you will probably spend most of your time with children. And often, many of the adults you work with will have many childlike characteristics and attributes.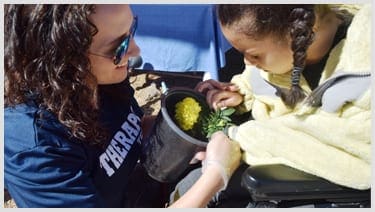 When you choose this career, you need to love children and the way they think and act. Children are not just small adults. They see the world differently than adults. They behave instinctively and impulsively and express their feelings through their behaviors. If you appreciate this about them, you will be much more successful in your job working with them.
Your unconditional love should extend to children of all abilities and in all situations. Every child, no matter their perceived limitations, behaviors, or needs is completely valuable and entirely whole just as they are. Each child is also 100% loveable and worthy of our love and respect. When you can recognize the perfect worth of each individual, you will be highly successful at whatever you do.
I have a friend with a son, named Dakota, that had a brain injury when we were two years old. He cannot talk or walk or sit up by himself. He has many outward, physical and mental limitations. Dakota attends a school where he spends some time every day with a peer that doesn't have a disability. The boy he works with wrote my friend a note, telling her how much he liked spending time with Dakota and wrote, "He always smiles even though he has a lot of problems."
My friend read the note at dinnertime to the rest of her family. When her four-year-old daughter heard the note she asked, "What problems does Dakota have?" To her, Dakota is exactly as he should be. This beautiful perspective is exactly the kind of thinking that will help you love and like the children you work within a career in special education.
Calm and Patient
There are moments in any job that are stressful. But it is very important as a special education paraprofessional or professional, that no matter what is happening, you remain calm and patient.
The children in your classroom or the child you are working with will take their cues from you. Your ability to be calm and peaceful will be valuable in any situation you may encounter.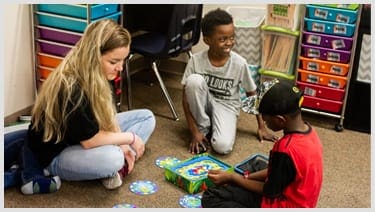 When you work with children or adults with special needs you may work with individuals who are medically fragile and there might even be medical emergencies. There are often behavioral symptoms or problems that can arise. When you are calm, it decreases the tension for the students and helps them relax as well.
There are also lots of repetitive elements to your job and progress for students is often slow. You will need to be calm and patient in both of these kinds of circumstances.
Organized
For many students with special needs, progress is built slowly over time.
You need to be organized and prepared so that you can help your student step by step in whatever skill they are working on.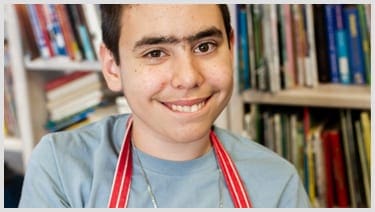 For students with higher cognitive or physical abilities, a big part of your job will be to model and teach effective organizational skills—like how to keep track of assignments and deadlines, or maintain a clean workspace, or manage their time.
When you are organized in your classroom management or in the way you spend your time as you work with an individual student, you will be more effective in your job.
Creative
This may seem like being creative is the opposite of being organized, but it's not and both characteristics will help you be successful in special education. The variety of teaching methods, learning modules, projects, initiatives, and therapies is truly unlimited! The more creativity you have, the more ideas you can use to help your students.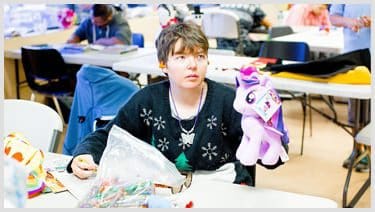 Over the years, I have seen some amazing things as the professionals and paraprofessionals at our school used their expertise, interests, and creativity to teach things in a new way and reach their kids in a unique manner.
Your students with special needs often don't learn the way other kids do. You will need to think about the ways you are teaching in a different way and look at it from a different angle—think outside the box! When your student has an "a-ha" moment from one of the ideas you came up with, there is no better feeling!
Knowledgeable
The amount of education you need to work in the special needs field depends on the job itself. But for most paraprofessional jobs, you only need a high school diploma or equivalent. Your experience is the knowledge that will be truly valuable to you in this job.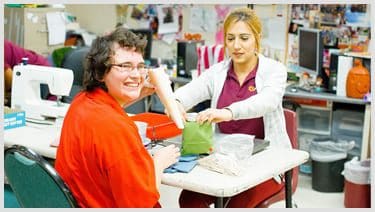 Every day will provide you with incredible learning experiences. The more you work with your students and understand their unique abilities, the better you will get at meeting their needs and helping them progress. If you don't know something, be willing to learn it. Be willing to ask and get better at your job.
Curious
In connection with being knowledgeable, being curious is just as important. A few years ago Carol Dweck published a book called Mindset in which she talked about the advantage that "learn-it-alls" have over "know-it-alls."
In her studies, she found that people who were willing to admit they didn't know something and jump into learning it were the most successful in the end.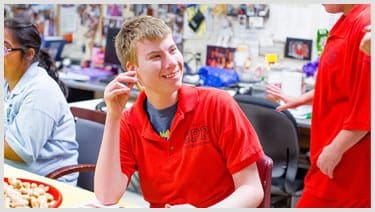 You don't have to know it all! As a special needs professional and paraprofessional you will be exposed to situations you have never encountered. It's okay if you don't know exactly what to do. But the characteristic of being curious and always wanting to learn and understand more will help you every time this happens. Being curious also allows you to constantly be looking a better way to do things!
Confident
As a special needs paraprofessional, you will play an important role in helping your students progress and also reigning them in and redirecting them when they are overwhelmed. Understanding how to manage this dichotomy takes confidence.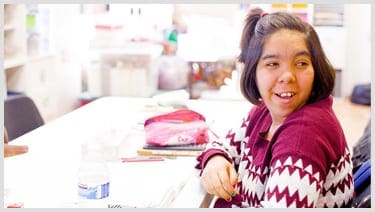 For example, you are there to help your students develop and gain as much independence as they can. You want them to be able to figure things out for themselves where possible, and this means you need to know when to step back.
At the same time, you need to be ready at any moment to intervene and help. You are responsible for your students' safety and need to recognize important teaching moments or times when your students need your help managing themselves, their emotions and behaviors, or diffusing a tense or complex social situation.
Team Player
When we help a student with special needs we are part of a huge team of people. There are parents, caregivers, doctors, therapists, administrators, teachers, specialists, and the list goes on. As a special needs paraprofessional, you are also a member of this important team!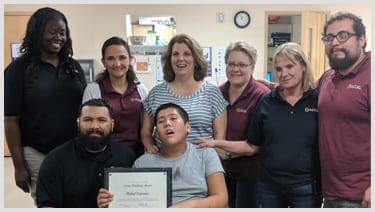 It is such a valuable skill to be collaborative and be able to work hand-in-hand with all the people who provide care for your students. Communication is so important in this process. The more you can be inclusive of other people's ideas and thoughts, the more opportunities are available for all the students you work with
Positive
Perhaps the most important character trait for anyone who wants to work with children and adults with special needs is positivity. When you are positive and cheerful about your students, about your own contribution, and about the importance of your job, everything you do will be better.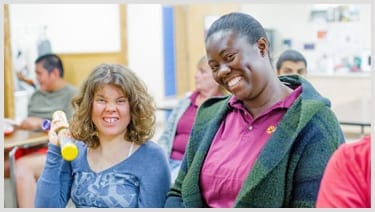 Your attitude will affect every aspect of the way you do your job and how much enjoyment and purpose you find in it. Most importantly, it will be felt by your students and will make a huge difference in their lives and their education.
WHAT ARE DIFFERENT JOBS AND CAREERS IN
SPECIAL EDUCATION?
Jobs in the special education field provide people with incredible careers where they get to have a positive impact every single day.
And there are so many different jobs in the field and so many ways to make a difference depending on your education and interest level. Let's look at some of the specific job opportunities in special education: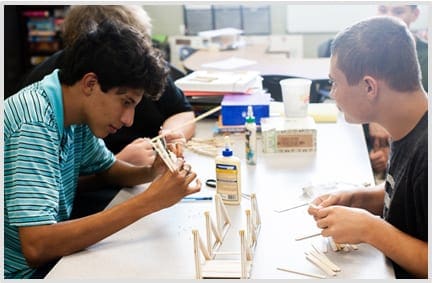 Special Education Paraprofessional
Paraprofessionals have the opportunity to work with special needs students in the classroom and assist teachers in preparing materials and activities designed to meet the unique physical, emotional, educational, and creative needs of the students.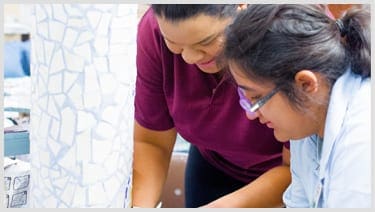 Your day-to-day work will vary depending on the severity of the disability and the needs of your particular students. But many times you will have opportunities to help individual students, small groups, or an entire classroom, depending on what is needed on any given day. You will help with therapeutic programs, educational plans, skill acquisition, assisting in eating meals, hygiene and toilet routines, and practicing life skills.
You are another set of hands and ears and eyes in the classroom and you will spend your day helping the teacher and the students have the best learning experience they can.
Direct Service Provider
Direct Service Providers work with adults with special needs to help them with educational, social, and physical needs. Again, your responsibilities will vary depending on the abilities and needs of your clients, but you will have opportunities to help with nutrition, finances, relationships, social outings, personal care and hygiene, and helping your clients achieve the skills identified in their personal ISPs.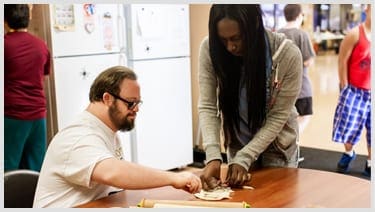 Behavioral Technician
Behavioral Technicians and Registered Behavioral Technicians work with students who have Autism Spectrum Disorder or other developmental disorders. They play a vital role in client treatment and preparation for school as they implement plans and check on their clients' progress and behavior, usually in one-on-one settings.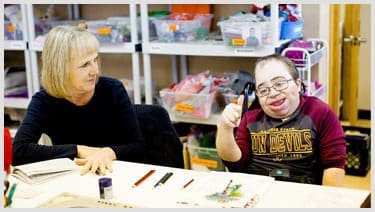 Special Education Teacher
Special education teachers have degrees and special training to work with children who have various physical, mental and emotional disabilities. They will assess their students' personal and specific needs and then create lesson plans based on those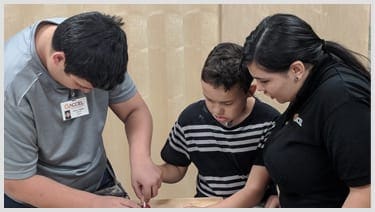 They will communicate with parents and other members of the team as they evaluate the progress of their students.
Early Intervention Specialist
Early intervention specialists perform their jobs to make sure that children who have a disability get the services they need as early as possible and help them grow and progress throughout their lives. Early intervention educational programs and therapies can make a big difference in the lives of their students and their ability to adapt to any limitations they may have.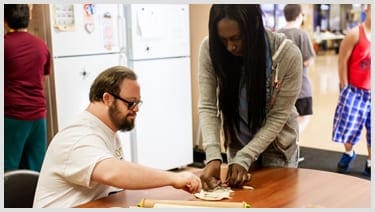 Special Education Advocate
Special education advocates work hand-in-hand with parents and school administrators to create and implement customized learning programs for students with disabilities. They also play an important role in protecting the interests of people with disabilities and make sure their rights are not violated or that they are getting the services they require.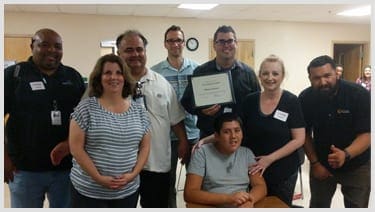 Job Developer
In this job, you will help adults with varying special needs with their vocational and job opportunities. Every person needs to make a contribution in order to feel dignity and fulfillment. In this job you will help serve, coach, teach and instruct adults with intellectual, behavioral and/or physical disabilities as they work in various community settings.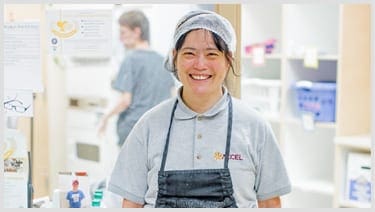 They will communicate with parents and other members of the team as they evaluate the progress of their students. Special education teachers may work with different disability levels and ages, from preschool to high school.
Educational Audiologist
Educational audiologists work primarily with students who have hearing impairments or disabilities. They evaluate their students and help parents and teachers understand the challenges and effects of the individual's hearing loss on their ability to learn. They may also develop lesson plans and learning strategies to accommodate children with hearing problems.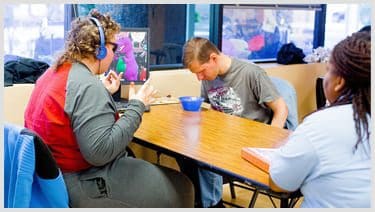 Speech and Language Pathologist
Speech and language pathologists work with students with special needs to help prevent, diagnose, and treat language, social and cognitive communication. They will provide speech and oral therapy to help their students progress in their communication abilities. They can sometimes provide training to parents and caregivers to helping their loved ones speech impairments or disabilities.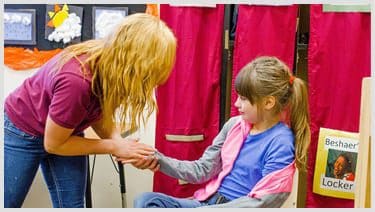 Occupational Therapists
Occupational therapists play a vital role in helping students with all kinds of disabilities to strengthen their bodies and their physical abilities. You will work with students with a wide-range of abilities and needs to improve their quality of life and allow them more physical freedom.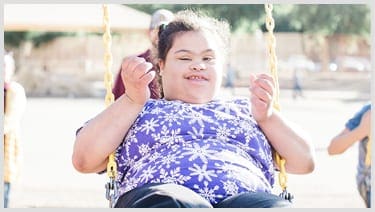 Other Therapists
Students and adults with special needs respond differently to various kinds of stimulation. A variety of therapies can make a positive impact on many different students. Pet therapists, music therapists, aquatic therapists, and many more can all make a difference for these students.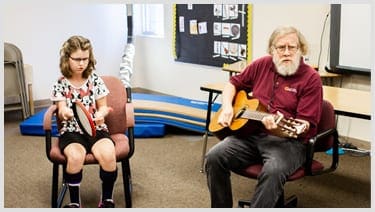 Executive Positions
Just as in any other industry, there is a need for highly-qualified professional executives in the field of special needs. Financial officers, operations officers, and various administrators all play a valuable role in providing services and educational opportunities to individuals with special needs.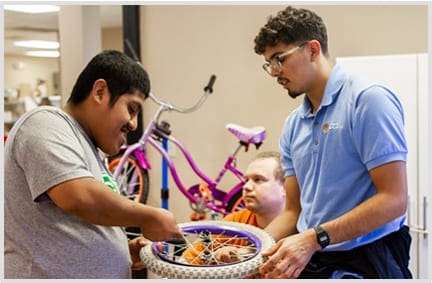 WHAT ARE THE BENEFITS OF A JOB IN THE SPECIAL
NEEDS FIELD?
As you can see, special education is a field with huge potential for career development and growth. No matter what your interest, there is a place where you can make a difference for someone who has special needs.
There are many benefits to working in the field of special needs. You can work in a variety of environments with people who have a variety of different disabilities.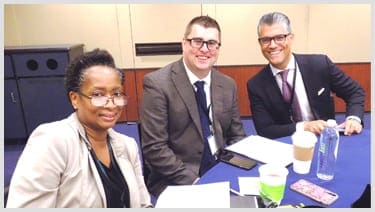 Every day is different and will gain incredible knowledge, skills, and experience in an industry that is always needed.
Most of all, there is great satisfaction and joy that comes from really making a difference. Most of the professionals and paraprofessionals that I work with at ACCEL say that they get far more from their students than they ever give to them. It is some of the greatest work you will ever do with some of the greatest people in the world. Anybody who gets to work with people who have special needs has the best job out there!