At ACCEL we believe in the philosophy of constant improvement, growth, and learning, especially when it comes to incorporating proven and well-researched methods to improve the overall experience for our students.
Evidence-based practices allow us to better meet the needs of all of our students.
Every year, millions of dollars of research is invested to discover and develop ways to help children with special needs be as successful as they can in the classroom and throughout their lives.
Understanding and assimilating these important findings has made a difference for our students in many ways.
One of the most recent programs that we have tested and implemented in our classrooms is known as The Model Classroom Program©.
In conjunction and collaboration with Kennedy Krieger Schools in Baltimore, MD, ACCEL developed The Model Classroom Program as way to improve classroom management and decrease behavioral problems for students with autism spectrum disorder, developmental disabilities, or other special needs.
Throughout the process of implementing this program, we collected data so that we could accurately evaluate the success of the program and its impact on our students.
The results of The Model Classroom Program in helping our students overcome behavioral challenges have been promising.
These findings will allow you to see the effectiveness of implementing this program and outcomes it created for our students.
Contents
WHAT IS THE MODEL CLASSROOM PROGRAM?
The Model Classroom Program© was designed to be an effective assessment and intervention tool for administrators and educators to use in order to evaluate and coach special education teachers.
In other words, we designed a very specific protocol to first evaluate a teacher's effectiveness in managing a classroom and teaching their students, and then be able to offer concrete techniques and methods for improvement.
Specifically, the idea was to have a prescribed method for teachers who work with students with autism spectrum disorder or other developmental disabilities to use evidence-based practices to establish, maintain, and manage their classrooms and better achieve their educational objectives.
The program was developed at ACCEL (Arizona Centers for Comprehensive Education and Life Skills) in Phoenix, AZ, and shared and implemented in collaboration with the Kennedy Krieger Schools in Baltimore, MD.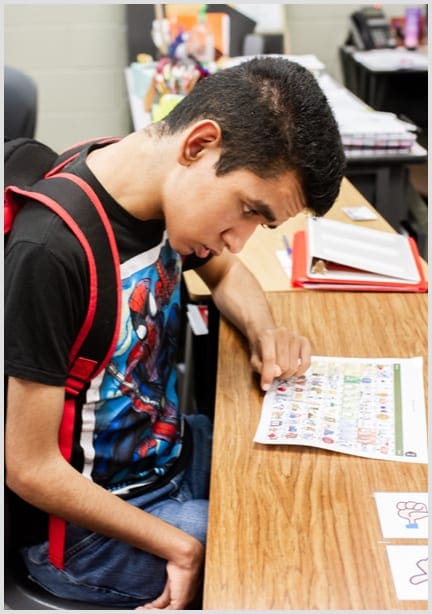 The scope of this program includes seven areas of assessment and intervention:
2
Curriculum and
Lesson Planning
4
Environmental
Structure and
Room Set-Up
5
Schedules &
Visual Supports
6
Staff Management
& Collaboration
7
Effective Teaching
Behaviors
For each area of focused assessment and intervention, there are targeted models and methods for evaluation and implementation.
For example, some of the aspects of Classroom Management include setting up classroom rules and expectations, evaluating a teacher's praise rate and their quality of praise, and assessing the quality of individualized behavior intervention plans.
Another area of focus, Effective Teaching Behaviors, included coaching on effective instruction delivery and teaching cycles, giving students sufficient opportunities to respond, procedures for error correction, and encouraging on-task student behavior.
These are just two examples of the in-depth training and intervention the program provides, and for each area of focus there are a specific set of objectives and points that allow teachers to create systematic improvement.
THE RESULTS OF THE MODEL CLASSROOM PROGRAM
Data was taken in classrooms before, during and after The Model Classroom Program was put into place. We found that outcomes included improved teacher performance and decreased problem behaviors of students following the implementation of the program.
Below are graphs of two classroom teachers who have completed The Model Classroom Program©. In each graph, you can see significant decreases in the incidence of problematic behaviors.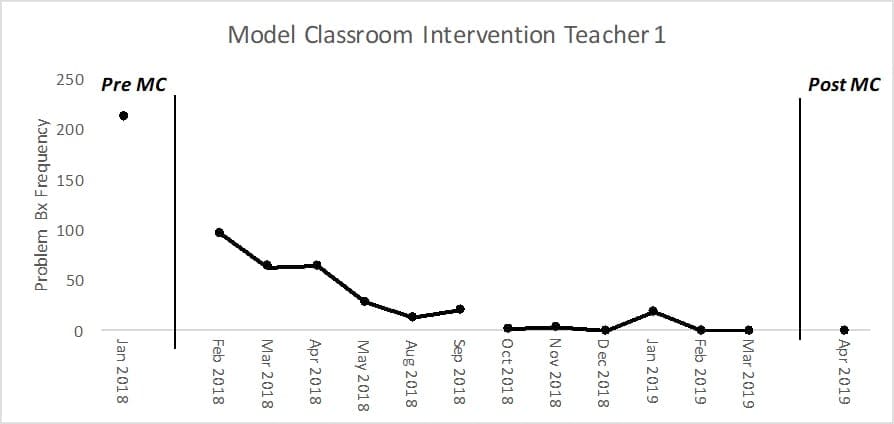 In this first graph, you can see a marked decrease in the frequency of problem behaviors from over 200 incidents in the month of January to no incidents in March of 2019, fourteen months later.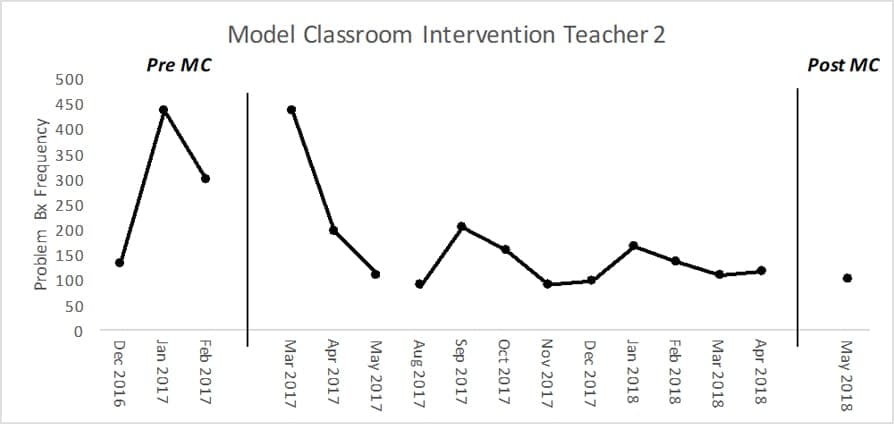 Here in the second data set, you can also see a significant decrease in the frequency of behavioral problems and a trending downward slope of improved behavior.
From a high of 450 incidents a month, eighteen months later this classroom had over 300 less behavioral incidents every month, a 67%overall improvement.
Teachers report that these significant changes have occurred as a result of increased structure and visual supports, consistent use of behavioral techniques, and well-defined learning centers and symbol schedules that promote student understanding of expectations.
They note that implementation has led to more predictability, decreased anxiety and greater independence for their students.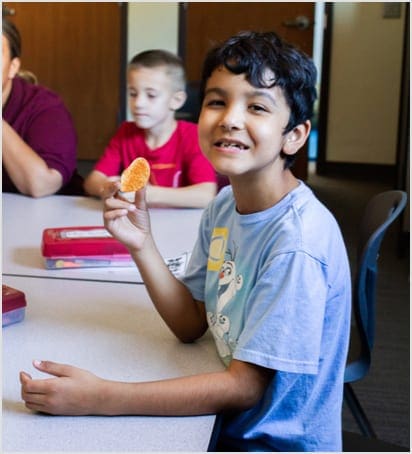 One of the ACCEL Mentor Teachers, Erica Ehrlich, offered this valuable perspective from her experience:
The Model Classroom Program© at ACCEL has taught me how to effectively run a classroom that meets the needs of a diverse group of students with disabilities. Model Classroom achievement is based on a variety of key components including: the environmental structure, schedules, visual supports, curriculum, lesson planning, staff management, effective teaching behaviors, and data collection.
Being able to implement all these variables into the classroom daily has led to more positive student behavior, IEP goal mastery, and staff who understand the expectations of the classroom, to name a few.
A young man in my classroom benefited so greatly from the program that his aggressive behaviors decreased from over 100 a day to 0 in just a few months. I believe this decrease in problem behavior was because the structure of the classroom was modified for him to achieve his goals.
The Model Classroom Program© was intensive and beneficial and led me to become a Mentor Teacher. As a Mentor Teacher, I have had the opportunity to share my knowledge with other teachers seeking support in their classrooms.
Additionally, other teachers have offered their testimonials regarding their own experiences with the effectiveness of The Model Classroom Program© in helping them gain more skills and have more success in their special education classrooms.
One Special Education Teacher from Baltimore Maryland said of the program, "It is like completing a lifetime of professional development in one year."
At ACCEL our goal is always to improve the educational, social, and life experiences of our students and use the best evidence-based practices to achieve that goal. As we help our teachers improve through tools like The Model Classroom Program, our students are the real beneficiaries. Another ACCEL Special Education Teacher at our Tempe, AZ campus noted:
One of the things I became more aware of is the rates of praise and whenever I give a direction I should also say something positive, and the students really respond to that. They hear all the good things they are doing.
Overall, since I began the Model Classroom Program, I believe the IEPs I write are more effective
I think the data collection has been the most helpful. Getting data everyday helps us to know if we are writing the most effective goals and if we are teaching the goals in the most effective manner. I am always challenged to do my job better than I am doing now. I really like the outcomes I am seeing from kids.
HOW DATA COLLECTION IMPROVES OUTCOMES
What this teacher points out is one of the most important aspects of The Model Classroom Program: Getting data everyday helps us to know if we are writing the most effective goals and if we are teaching the goals in the most effective manner.
Peter Drucker famously said,
"If you can't measure it, you can't improve it."
Drucker's focus was on business management, but it applies just as much to the way we achieve improvements for our students in the classroom.
No matter how good we want to be in the classroom and how dedicated we are to helping our students progress, if we don't measure our efforts and our outcomes, we can't improve or get better at it.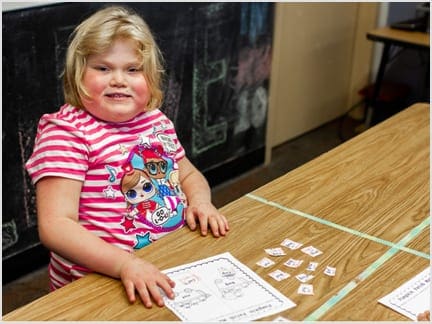 Without data, we can't know if what we are doing is effective and if we are succeeding in our goals.
Having measurable objectives for our teachers allows them to see what is working and where they can improve. In this way, The Model Classroom Program© has been described by one teacher as a layout or a roadmap to help a teacher become organized and to guide students to become independent.
ACCEL IS COMMITTED TO EVIDENCE-BASED IMPROVEMENT
The success of The Model Classroom Program is indicative of ACCEL's commitment to evidence-based improvement in all aspects of our role of educating and helping students with special needs, including those students who have autism spectrum disorder or developmental disabilities.
Our philosophy is that when we improve in any area, our students are the direct beneficiaries of that work and effort.
We have seen the incredible effectiveness of measuring results and systematically implementing tools to help our special education teachers have both the knowledge and skills to be successful in their classrooms.
With this program, ACCEL continues to document positive outcomes for teachers and students.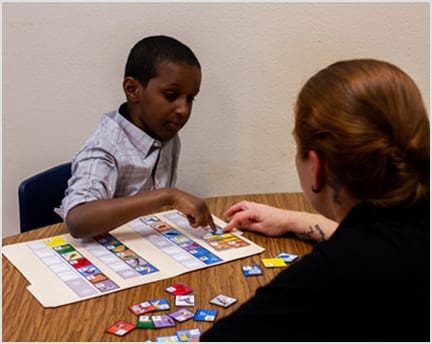 But our efforts to improve the educational outcomes for children with special needs are not limited to our own students.
We believe the power of The Model Classroom Program can have an impact on every student with special needs and we have shared our methods and findings with other like-minded schools.
The Model Classroom Program© has been utilized in public, private and charter schools in Arizona, New Jersey, Maryland and Louisiana.
Additionally, the successes of this program have been shared and presented at local, regional and national conferences to benefit everyone who has the privilege to work with students with special needs.
At ACCEL we are proud to be leaders in evidence-based programs that improve the learning opportunities and environments for students with special needs.
If you have a student that could benefit from this type of learning environment, we invite you to visit our website or one of our campuses to learn more about our school and our mission and vision.
We will be happy to show you what we are doing to improve the lives and educational outcomes of all of our students. Contact us today to learn more.
Contact us today or come visit our ACCEL Educational Services program
We have been successful because of our deep commitment to each individual and finding the exact right opportunity for them.