You feel a little lost because you allowed yourself to get distracted.
This happens to all of us occasionally, when our mind is moving along in conversation and suddenly loses the thread.
But for a child who has a language processing disorder, this can be their constant reality and find themselves continually stuck, unable to express themselves and unable to follow the conversation.
Over time, you can imagine how frustrating and challenging this communication disorder can be and how discouraged children who have language processing disorder may feel.
The difficulty of expressive and receptive language disorders is that they affect a child's ability to comprehend what others are saying verbally and to be able to convert their own thoughts into words and sentences.
The more you can learn about the characteristics of language processing disorders the more you can help and assist these children develop relationships and share their thoughts and feelings.
In this article, we will talk about what a language disorder is and the characteristics of a language processing disorder in children.
We will talk about the variety of language processing disorders, including the symptoms, diagnosis, and treatment that characterize the communication disorder.
We hope that this article will help you be more understanding and sensitive to the needs of those with language processing disorder and help them find a solution to decrease their frustration and isolation.
WHAT IS A LANGUAGE DISORDER?
Let's start our discussion by understand what characterizes a language disorder.
Language disorders are a challenge or impairment that impacts how someone is able to communicate through verbal language.
However, it's important to know that Language Processing Disorder (LPD) relates only to the processing of language.
LPD can affect expressive language (what you say) and/or receptive language (how you understand what others say). We will talk about both of these in more detail later in this article.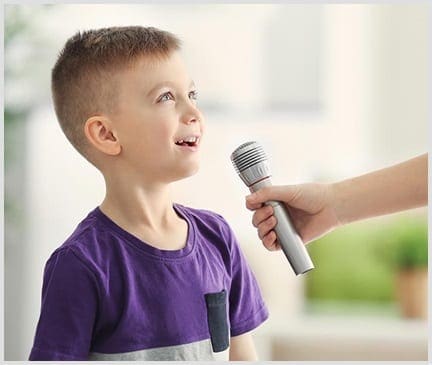 These impairments vary in degree and intensity and affect each child differently. For example, one person may have difficulty understanding and following conversations or verbal instructions, while someone else may simply find it difficult to get their thoughts out clearly and translate their feelings into words.
It is estimated that up to 5% of children in the U.S. have some type of language disorder, and today more than a million children receive help and special education specifically for language-related disorders.
Language disorders can be hard to diagnose; children with language disorders may simply be thought of as "shy," "quiet," or "distracted." However, language and communication play such a huge role in our lives, that if the language disorder is not detected, these children can suffer throughout childhood, adolescence, and adulthood.
For instance, people with language disorders find social settings challenging and they may withdraw and isolate themselves.
Another possible consequence of misdiagnosis is an increase in negative behaviors that arise out of frustration or anger at a child's own inability to communicate effectively and say how they feel. These children may act out or be aggressive simply because they are so frustrated and discouraged.
WHAT ARE THE DIFFERENT TYPES OF
LANGUAGE PROCESSING DISORDERS?
Language processing disorders can be divided into two types: expressive and receptive. We will talk about each of them in turn.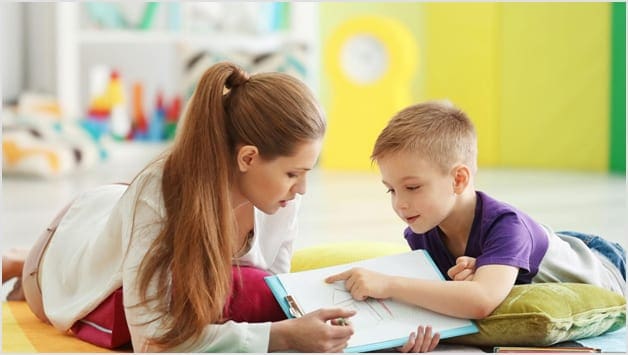 Expressive Language Disorders
Expressive language disorders are characterized by difficulty in language output, including expression, sharing thoughts, translating thoughts into words, and communicating the inside thoughts and feelings into understandable, organized, coherent verbal language.
Receptive Language Disorders
Receptive language disorders are those impairments that are characterized by problems with verbal input, meaning understanding, interpreting, and processing words as they are heard.
For children with receptive language disorders, it's hard to make sense of verbal conversation and instruction as it is being given.
Note that it is possible for a child to have difficulty in one or both kinds of language disorders in combination.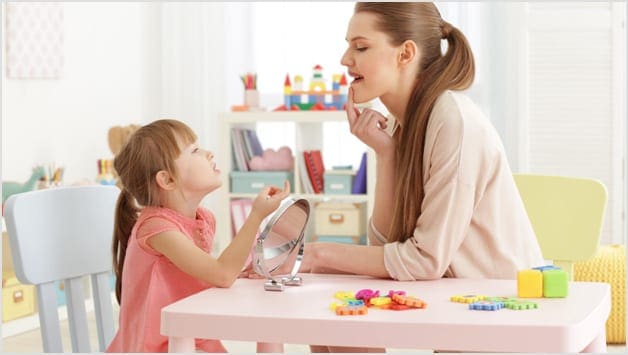 Researchers agree that language disorders are most often developmental disorders, similar to other learning disabilities.
But language disorders can also be neurological disorders that occur as the result of illness or because of traumatic events that might have occurred in a child's life. It is not unusual for children who have suffered significant trauma to stop speaking.
Additionally, brain injury or medical conditions that affect the brain, like a stroke, can also create language disorders. In these cases, when the language disorder is caused by physical injury or damage to the brain, they are labeled as aphasia.
WHAT ARE THE SYMPTOMS OF
LANGUAGE PROCESSING DISORDERS?
Because language processing disorders can vary in severity and can include either receptive or expressive impairments or both, the symptoms of language processing disorders can also vary greatly.
The disorders will look different in everyone. However, language processing disorders do have some general patterns and symptoms that you can watch for.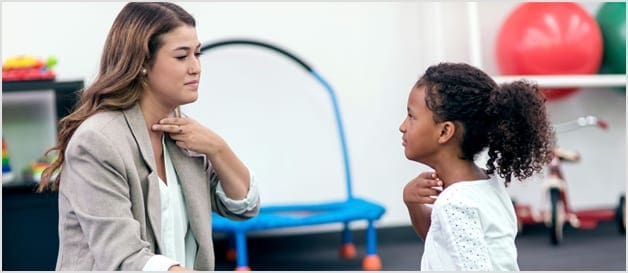 Late Talking
For many children with a language processing disorder, they begin talking later than many of their counterparts. These children are not generally verbally expressive even when they are toddlers.
Average or Above-Average Intelligence
Even though these children are often "late talkers," it is not usually because they have intellectual disabilities. Many children with language processing disorders have average or above-average intelligence, but simply have difficulty demonstrating and sharing their intelligence because of their language impairment
Shy or Distracted
Especially when the language processing disorder is mild, it can be very difficult to diagnose and may be brushed off as "shyness" or the child may simply appear "distracted." If your child is shy or quiet and seems to get lost in their thoughts, look for signs of some of the other symptoms listed below. If you suspect your child may have a language disorder, talk to your doctor or speech therapist for evaluation and help.
If a child has an expressive (output) language disorder, other symptoms may include:
Trouble learning new words
A limited vocabulary
Mix their verb tenses
Can describe an object and draw it, but can't think of the word for it
Using filler words excessively, like "um," "stuff" and "things" instead of more specific words
Has trouble writing
Repeat phrases when telling a story or answering a question
Frequently say things that don't make sense
Are often unable to find the right word
Often frustrated by their inability to communicate what they are thinking or feeling
May be depressed or having feelings of sadness
Average or Above-Average Intelligence
Acting distracted or uninterested in conversations or social situations
Struggles to gain meaning from spoken language
Difficulty understanding jokes or sarcasm
Difficulty following directions
Exhibits poor reading comprehension
Misunderstand questions and their answers seem out of "left field"
May be depressed or having feelings of sadness
HOW ARE LANGUAGE PROCESSING DISORDERS DIAGNOSED?
When a child starts demonstrating some of the symptoms that we have talked about above, it is important to have a professional evaluation done by someone who has training specifically in speech and language development.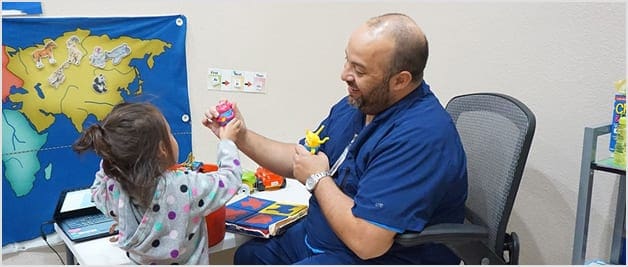 As we have already noted, many language disorders are often not diagnosed or misdiagnosed as autism, ADHD, intellectual disabilities, or even just "laziness."
This is why you need the help of a professional that understand what to look for and has the ability and skills to do a proper evaluation.
Preschool-Aged Children
If a child hasn't started school, you can get him or her a free evaluation through your state's Early Intervention (EI) program. After the evaluation, if they identify a language disorder the Early Intervention staff can help you create an Individualized Family Service Plan (IFSP), which will provide resources and support for your child until they are 3 years old.
An IFSP gives details about which services your child should receive and exactly what the child's parents and specialists expect their progress to look like.
If you are the parent of a child with a language processing disorder, you will play an important role in developing and executing IFSPs, so the more you know about the process and about what is available for your child, the better prepared you will be to advocate on your child's behalf.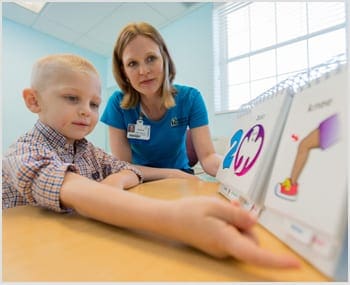 School-Aged Children
If a child has started school before symptoms are noticed, you can get help from the public school system that you are a part of, even if your child is enrolled in private school.
This means that you can formally request the school to conduct an evaluation with a speech therapist at no cost to you.
Schools do have the right to deny your request if they feel your concerns are unwarranted, and they have to notify you of this denial in writing.
At this point, you have the right to request a hearing to appeal the school's decision or work with a private speech and language specialist.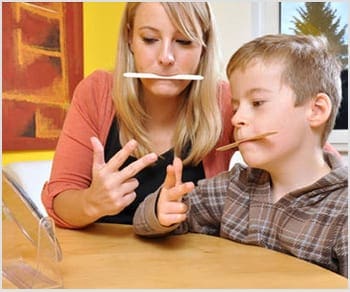 It's important for you to understand that even if the school district provides an evaluation, you have the right to work with a private specialist if you choose. Obviously, this option may be more costly, but it gives you the option of more flexible scheduling and individualized attention.
Testing for language disorders is done generally the same way by most speech therapists. Be sure to have the testing done in the language that the child is most comfortable in.
The speech therapist will observe and interact with your child in lots of different situations in order to provide an accurate diagnosis.
They will also interview you to see if your own communications skills are contributing to language impairment.
The speech therapist may also try a number of different therapies to see how your child reacts.
This will allow them to begin to formulate an effective treatment strategy.
WHAT ARE THE TREATMENT OPTIONS
FOR CHILDREN WITH LANGUAGE PROCESSING DISORDERS?
After your child is diagnosed, a treatment and therapy plan will be created and outlined by a speech therapist.
They will work closely with you to set up regular speech therapy or other interventions as needed.
For example, if the language processing disorder has negatively affected the child's academic or social development in negative ways, other forms of therapy, such as psychotherapy, may be recommended to help them deal with their frustration and isolation.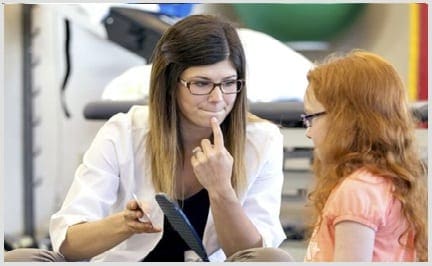 The best way to treat language processing disorder is to start early. Early intervention has been shown to make a huge difference for these children. But even if the diagnosis was delayed for some reason, there is still lots that can be done to help your child. In fact, studies have shown that as high as 70% percent of people respond to speech therapy, and the rates are even higher when it comes to children.
WHAT CAN I DO TO HELP MY CHILD
WITH THEIR LANGUAGE PROCESSING DISORDER?
The best thing you can do to help your child if they have a language processing disorder is to support them emotionally and provide them with the speech therapy resources they need to address their impairment.
It is so valuable to your child when you can understand how frustrated and lonely it can feel to be unable to communicate and then provide the professional help and support they need.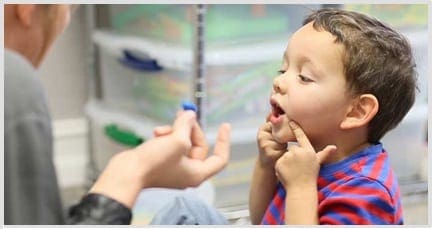 Always patiently work to communicate with your child, speaking slowly and clearly and using appropriate vocabulary. As you know, children with language processing disorders are not intellectually compromised; they simply have a difficult time processing verbal language.
Pictures and visual cues can help as you communicate and can allow them to share what they need and want when words are not available to them.
Be diligent about finding the right resources to help them as they work on their language processing skills. You are your child's best advocate. Seek out help from your school and make sure that the academic environment your child is in supports their language processing needs.
At ACCEL, many of our students have language processing disorders and we provide superior speech therapy programs that help our students progress and grow in their language processing skills. We have on-site, dedicated speech therapists who provide individualized therapy for each student.
Language is the way we express what is happening for us internally and it is how we create connections with each other. It is so important to us at ACCEL that our students have the opportunity, support, and resources to develop these skills in an environment that reduces and understands their frustration and isolation.
We're always here to answer your questions and support you as figure out the best treatment options and academic environment for your child. Please reach out to us if you have questions or concerns about your child's language processing development. We are here to be a resource in our community and a guide to you as you help your child.
Contact us today or come visit our ACCEL Adult Services program.
We have been successful because of our deep commitment to each individual and finding the exact right opportunity for them.